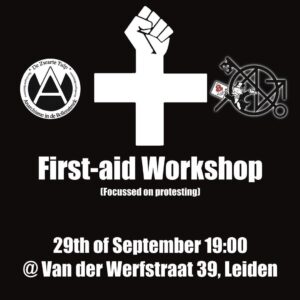 [ English below ]
We hebben tijdens protesten, in het bijzonder de woonprotesten, gemerkt dat er nogal wat gewonden vallen door politiegeweld.
Daarom organiseren we een EHBO cursus gefocust op protesteren. Hierbij wordt er ingegaan op de meest voorkomende verwondingen bij protesten. Maar het zal ook toekomstbestendig zijn door ook in te gaan op wat je bijvoorbeeld kan doen wanneer de politie traangas gebruikt.
Een getrainde BHV'er en activist zal de workshop verzorgen. Mocht je er niet bij kunnen zijn maar ben je wel geïnteresseerd? Geen zorgen. Alle info van de workshop zal ook gedocumenteerd worden in een zine die we binnenkort zullen uitbrengen.
Laat het ons weten als je komt (via DM). Dan kunnen we zorgen dat we genoeg zines hebben voor iedereen.
Wanneer?
29 september om 19:00
Waar?
Vrij Parkeren Leiden.
Van der werfstraat 39, Leiden.
Toegankelijkheid:
De ruimte is rolstoeltoegankelijk.
[ English ]
We have noticed during protests, in particular the housing protests, that quite a few people are injured by police brutality.
That is why we organize a first-aid course focused on protesting. We will discuss the most common injuries during protests. But it will also be future-proof by also discussing what you can do, for example, when the police use tear gas.
A trained emergency response employee will provide the workshop. If you can't attend but you are interested? No worries. All info from the workshop will also be put in a zine that we will be releasing soon.
Let us know if you're coming (via DM). Then we can make sure we have enough zines for everyone.
When?
September 29 at 19:00
Where?
Free Parking Leiden.
Van derwerfstraat 39, Leiden.
Accessibility:
The space is wheelchair accessible.